Arkadium is a manufacturer of custom products for the educational, entertainment and architectural industries. From schools to the largest opera house or theatre to themed architectural spaces, Arkadium solutions enjoy 50 years of success in North America. In addition to our standard products, Arkadium offers custom distribution products and control racks to suit any project. Arkadium is pleased to offer product application and technical support to the design and specification community.
News...
Arkadium built the driver racks for the recent upgrade and enhancement of the lighting of the Niagara Falls!
Click here for details...
NEW PRODUCT!
The Switch is designed to be used for smaller venues to switch the power on/off for LED systems. It's primary feature: no need for an additional control or to tie up a DMX channel to trigger a relay. As soon as The Switch sees DMX, the 20 amp 4 pole contactor closes. We are also using the new Pathway eDIN 1016 8 port DMX HUB, for DMX isolation. The ports are self-detecting, so you can have multiple ports to plug a console into. No need for a merger, or hard DMX patch.
The Switch - Specifications
The Switch allows remote DMX activation of a three pole 20 Amp Contactor.
With the presents of valid DMX, The Switch will control up to (6) six 20 Amp feeds to supply power for fixtures and/or equipment requiring Non-Dim Contactor Power.
The Switch will activate on the presence of valid DMX, and will not require a separate channel level from the lighting console or architectural control system. Going to a blank cue, running the grand master to zero or activating the black out button on the lighting console will not deactivate the contactors.
The Switch may also incorporated a 4 port DMX opto isolator, 8 port DMX RDM Hub, or E-din network switch.
Pathport E-din 1004, 1011, 1014 or 1016 will be part of the finished assembly to allow isolation and or management of the DMX.
Each unit shall be a surface mounted code gauge steel box located as shown on the drawings.
The unit shall be provided with terminal strips for feed and DMX connections. Access shall be by means of a removable cover.
Finish shall be black baked enamel in configurations of 12' x 12" x 4" or 12" x 6" x 4" and the entire unit shall be CSA approved in Canada and the USA.
The Switch can be a stand alone unit or be incorporated as the terminal box for Arkadium Channel Mount.
Slave units will be available that house only the high voltage contactor and additional DMX distribution where required. Slave units are controlled by the Master Switch.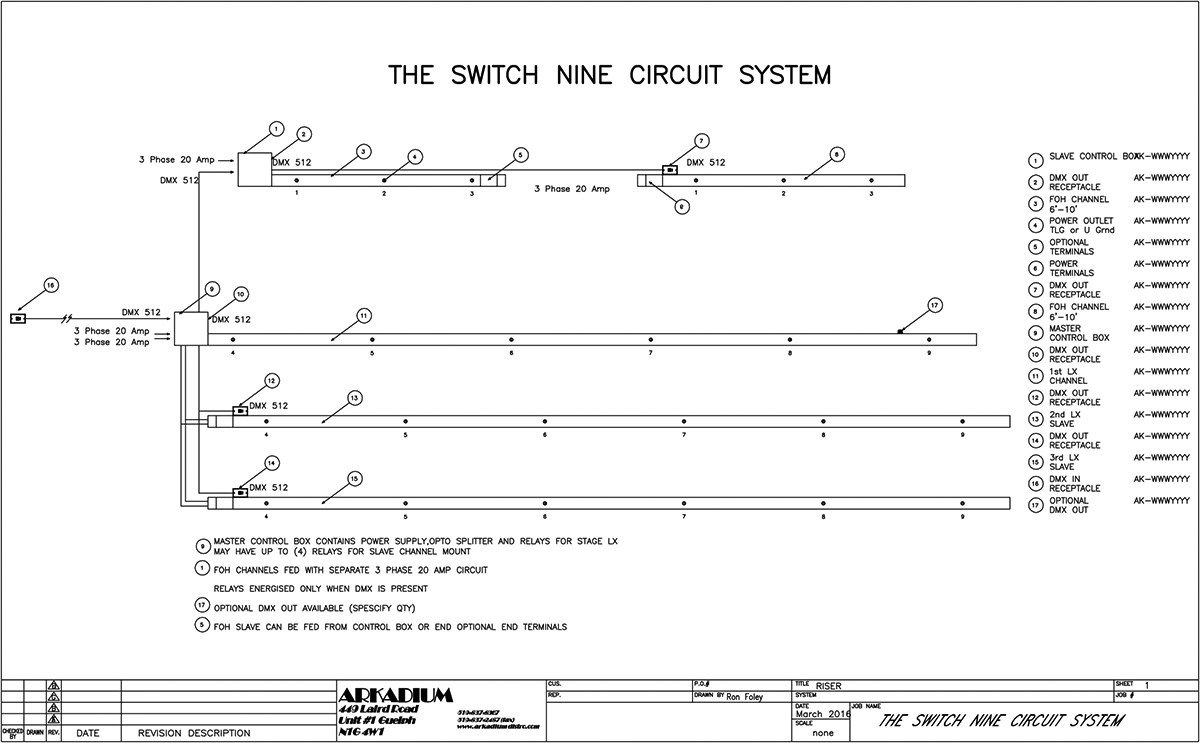 Some History...
Channel Mount was originally produced by Electro Controls in Calgary, Alberta.
1986 - Strand Lighting purchased Electro Controls and moved the tooling to Mississauga, Ontario. At that time Strand replaced the Steel Tough Plugging Strips with extruded aluminum better known as Channel Mount.
2001 - Scenework was contracted out by Strand Lighting to manufacture channel mount.
2003 - Strand Lighting Canada took back producing Channel Mount.
2006 - Strand Lighting Canada ceased all manufacturing.
2006 - Scenework owners Karen Moore and Ron Foley opened a second company called Arkadium to continue the manufacturing of Channel Mount as well as other theatrical distribution and Emergency Relay Cabinets. Tooling, CSA registration and the ownership of the tooling die were transferred from Strand Lighting Canada to Arkadium. Initially, Channel Mount was produced exclusively for Strand Lighting Canada. This continued on with Strand Los Angeles for a period of time after the Canadian office closed.
2008 - Arkadium set up agreements with the existing Strand Lighting Representatives across Canada to also become Arkadium Representatives and begin supplying Channel Mount direct to dealers and wholesalers across Canada with Strand Lighting USA supplying the dimming, fixtures and control.
Arkadium Manufacturing...
Since 2006 Arkadium has produced Channel Mount for over 250 installation jobs across Canada. Today, we are the only Canadian based manufacturer of theatrical distribution. Arkadium has manufacturer's representatives in BC, Alberta, Saskatchewan, Manitoba, Ontario, Nova Scotia, New Brunswick, Newfoundland and Labrador. New products introduced into the market over the last ten years include:
Emergency Relay Cabinets

- with power sensing, remote triggering and mechanical /electrical interlocks on the transfer contacts.

Relay Strips

- for Non dim control of moving lights and LED. Strips can be fed with individual breakers or mains feed of up to 60AMPs three phase. The strips can include data ports for DMX or Network.

Fixture Cages

- Individual protective cages for lighting instruments when placed in environments such as school gymnasiums.
Factory Resources To Help You
Sales Inquiries: Ron Foley
Phone: 519-837-8367 • Fax: 519-837-2487 • email: ronf@arkadiumdistro.com
Customer Service: Karen Moore
Phone: 519-837-8367 • Fax: 519-837-2487 • email: karenm@arkadiumdistro.com
ADDRESS: 449 Laird Road, Unit #3, Guelph, Ontario N1G 4W1
Warranty
Arkadium products are carefully tested and inspected at the factory and are warranted to be free of material and workmanship defect for a period of (12) months from the date of shipment. Warranty coverage will include parts, components and labor on equipment. Repair labor on equipment is excluded from warranty coverage on equipment when not performed by factory authorized personnel. Parts and components that are not the product of the Seller shall be subject only to the terms of any warranty that may be extended by the original manufacturer. Seller's warranty shall be restricted to the repair or replacement of any part that proved to be defective and for which a claim is submitted to the Seller before the expiration of the applicable warranty period, provided that this warranty shall not apply to any defect arising from accident, misuse or improper or unauthorized adjustment or repair. No warranty is given with respect to hanging systems or with respect to normal wear and tear. Any claim for defective merchandise, imperfect manufacture, shortage in count, or for any other defect known by Customer to be existing at time of delivery is waived by the Customer unless made in writing within (30) days after delivery. Seller will not assume any responsibility for any labor expended or materials used to replace and/or repair any equipment without Seller's prior written authorization. Any labor charges for repairing or replacing components in the field will be negotiated only between the Seller and general contractor. Freight terms on warranty repairs are FOB Seller's warehouse or factory. Collect shipments or freight allowances will not be accepted without Seller's written authorization. THIS WARRANTY ONLY APPLIES TO EQUIPMENT IF INSTALLATION INSTRUCTIONS ON THE EQUIPMENT ARE FOLLOWED AND IF THE EQUIPMENT IS NOT ALTERED OR DAMAGED OR USED BEYOND ITS INTENDED USE. THIS WARRANTY IS CONTINGENT UPON THE CUSTOMER'S FULL AND TIMELY COMPLIANCE WITH THE TERMS OF PAYMENT SET FORTH HEREIN. THE WARRANTY SET FORTH ABOVE IS EXCLUSIVE AND IN LIEU OF ALL OTHER WARRANTIES EXPRESSED OR IMPLIED, IN FACT OR BY OPERATION OF LAW OR OTHERWISE, INCLUDING THE IMPLIED WARRANTY OF FITNESS FOR A PARTICULAR PURPOSE, OR OF MERCHANTABILITY, AND THE SELLER SHALL HAVE NO LIABILITY OR OBLIGATION TO ANY PERSON, WHETHER HEREUNDER OR OTHERWISE IN CONNECTION WITH OR RESULTING FROM THE FURNISHING, LEASING, SALE, INSTALLATION OR REPAIR OR USE OF ANY UNIT OF EQUIPMENT OR OTHER MATERIALS OR SERVICES SUPPLIED BY IT, AND IN NO EVENT SHALL SELLER BE LIABLE FOR SPECIAL, INDIRECT, COLLATERAL, OR CONSEQUENTIAL DAMAGES HEREUNDER SUCH AS, BUT NOT LIMITED TO LOSS OR ANTICIPATED PROFITS, OR OTHER ECONOMIC LOSS IN CONNECTION WITH, OR ARISING OUT OF THE EXISTANCE OF THE FURNISHING, FUNCTIONING OR PURCHASER'S USE OF ANY EQUIPMENT PURCHASED HEREUNDER.
PDF Downloads

Channel Mount Circuit Raceway


Channel Mount Hangers


Channel Load Rating


Rigging Kits


Plug-in Boxes


Floor Pockets


Gridiron Junction Boxes


Emergency Transfer Cabinet


Cables Adaptors


Single Fixture Cages